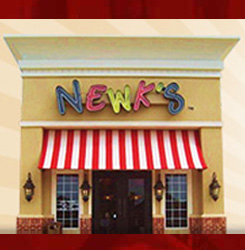 After I.T. girl and I went to the dentist we stopped into Newk's for some takeout. We also decided to visit the beverage station for cola. What is the etiquette for filling your ice and then drink and then adding a lid and a straw? We had three cups to fill as we were also getting a drink for Dancer Girl who was not with us. There are only 2 ice dispensers at our Newk's location. Fill your cup with ice, move down to your liquid of choice then set your cup down so you can add a top and a straw. The place was quiet. Very few customers. A lady was so frustrated and impatient with me filling 2 drink cups. Even though she had the other machine and I had already stepped out of the way. She pushed past me and slammed her cup into the machine to fill with ice. Muttering to herself the entire time. I just ignored her. When you order "just water" at Newks they will sell you a bottle water, or give you a little clear plastic cup to get water from the beverage dispenser. I noticed that was the kind of cup she had. The "FREE WATER" cup and yet she was filling her little cup with cola. Is that going to break the bank at Newk's? No. It just shows that some people have no class.
Yesterday I mentioned my monthly Kroger trip and let me just say, it was disappointing. Where are all the sales? Where are the BOGO offers? Wow. I think the only deal I got was the 90 calories snack bars. I got 4 boxes for 11 cents each. I got one box of keebler cookies free with purchase of a gallon milk. I had so many coupons and that is good. But wow, nothing like it used to be. And the cantalope? TWO DOLLARS EACH? Not to mention the celery and green onions and garlic. The garlic was 3/$100. And I used to get 10/$1. I was too worn out to document my purchase with a photo.
Receipt details: Shelf Price $212.97 (oh my)
- coupons 59.89
OOP total 153.08
91 items sold
Oh my gosh. I haven't spent that much in months. Looking back through my receipt I do see that I have a lot of fruits and vegetables. That always brings the price up. Oranges were $1 each. Ridiculous.
Most expensive item: Glad Trash Bags - $6.99, had a coupon for $1
Best deal: Fiber One 90 calories bars: Shelf price: 2.29
on sale for $2.11
had coupon for 50 cents that doubled to $1
had Kroger coupon for $1 off
Grand total: 11 cents a box. I bought 4 boxes
I also see that I got 3 boxes of Instant Mashed Potatoes for free. Forgot about that. They were on special for $.99 and I had 3 $1 coupons. So, free.
Then I also had the $5 off bonus from my customer loyalty card. (Although I'm not that loyal. I hit all the stores every week!)
Got home and remembered ICE. I always forget ICE. I'll have to get some before Ironman gets here.
No news on our house. It dropped off the MLS but we re-signed the contract. We are now officially the only house for sale in our entire town at that price. With 4 bedrooms (and we have 5) with 4 1/2 baths. With a fence backyard. 2 story. With a guest house. New appliances, new carpet, fresh paint. Professionally decorated. Move in ready condition. And we still can not sell it.